I'm currently installing a Garmin G5 display with 2 axis autopilot.
This is my pitch servo mounting, it's on the aft side of the aft bagage bulkhead -571. The pitch tube collar is 0.063 aluminum lined with 0.032 rubber strip.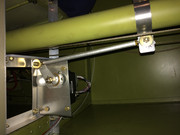 The roll servo mount is on the aft side of the -592 bulkhead under the pilots seat. The pushrod attaches to the walking beam on the pilots side.